Next Meeting: Thursday, Aug 8, 2019
What: Tabletop Photography – Bring something to shoot and don't shoot your own.
Members are asked to anything that would work in a still life setting, and then not shoot that, but rather use the items others have brought. Example of items:
Books
Fruit, vegetables
Other food
Coffee cup
Toys
Etc.
Etc.
Along with the item(s) you choose, you can bring something that may go with it to create a setting. For example if you bring a book, you can also bring reading glasses, a bookmark, etc. We will have several tables set up around the room as stations to shoot the still life. Harvey Augenbraun hopes to bring his artificial lighting again, and I'll bring scrap paper and other materials to be used as backgrounds. You may do so as well. Definitely bring a camera, len(es) and tripod. Have fun shooting and learning from each other, and then post-process your images at home. You will have a chance to upload photos for a gallery on the CCC website.
When: Thursday, Aug 8, 2019 at 7:00 pm
Where: St. John's Episcopal Church, 1623 Carmel Road, Room 204-205, Charlotte
Someone will be in the room by 6:30pm, so you can arrive early if you'd like.
Once again, here's information about the Charlotte Camera Club Annual Dinner. It will be held in the usual classroom on Thursday, Aug 22. Dinner will be served at 6:30pm and the presentation will begin at 7pm.
We are just about at the end of our club year which runs Sept-Aug. At the end of each club year, we gather for dinner, a year in review, an awards presentation, raffle prizes and general socializing. The dinner this year will be catered by Sports Page and will consist of:
Fried chicken
Mac & cheese
Garden salad
Rolls
Brownies
Tea
Lemonade
Attendees may bring their own beer or wine (BYB/W)
If you have dietary restrictions and choosing items from this menu for your meal will not work for you, let me know.
Cost for the dinner is $10 per person and must be paid by Aug 8. (The club is covering the remainder of the cost per person.) Come one, come all! Husbands/wives/significant others are invited and will also pay the $10/person price. You can pay by bringing a check made payable to Charlotte Camera Club to the next club meeting and give it to the Club Treasurer Larry Stoddard, or send a check made payable to Charlotte Camera Club to Larry at 3920 Lovett Circle, Charlotte, NC 28210.
Please RSVP to me ASAP if you plan to attend.
During the presentation, top PSA competitors for each category and overall PSA winners will be announced Award-winning CCC member PSA images will be viewed. In addition the 1st, 2nd and 3rd place winners and Honorable Mentions for our Club Competition will be announced and the photographers will be given awards.
This year we have a great lineup of raffle prizes. Each prize will have its own small bag. Each member at the meeting will be given a raffle ticket to put in the bag of their choice. One ticket will be pulled from each bag. Take at look at the prizes, so you're prepared to choose one that you'd like to try for the night of the meeting.
The Photo Classroom – Brian Osbourne - $60 of Photography Instruction. They offer over 35 unique classes ranging in topics from Basic DSLR and Flash Photography to Thinking Like a Professional and Portrait Posing Hands-on starting at $60. They also offer all-day Workshops and Photo Expeditions https://www.thephotoclassroom.com/
Tim Grey - one year of the GreyLearning Ultimate Bundle valued at $149 https://www.greylearning.com/bundles/greylearning-bundle The GreyLearning Ultimate Bundle includes:

All video training courses in the GreyLearning library
(currently 65 courses with a total of about 1,400 lessons representing over 100 hours of content)
Access to all new video courses published during the course of your subscription (one year)
Weekly lessons released in these courses: Photoshop Quick Tips, Lightroom Quick Tips, Photo Gear Quick Tips and Behind the Photo
Monthly issues of the Ask Tim Grey Monthly Digest
Access to the GreyLearning Webinar Series recordings
The option to submit questions to be considered for the daily Ask Tim Grey email newsletter
Ian Plant Photography - The Ultimate Landscape Course ($99 value) https://www.shuttermonkeys.com/landscape-photography-course From Ian: For 15 years as a professional photographer, I've shared my knowledge with hundreds of thousands of people around the world through workshops, photo conferences and events, dozens of books, and as a frequent contributor to many leading photo publications including my regular column for Landscape Photography Magazine. Everything I've taught over these many years has now been brought together in this amazing course. I'm proud to help you become the best landscape photographer you can be!
Matt Kloskowski Photography - $150 store credit – Matt is a Photoshop & Lightroom guy that helps people navigate the crazy waters of photography and photo editing. He sells courses, presets, profiles and LUTs https://mattk.com/
Topaz Labs – (2) licenses of their AI Bundle (regularly priced $439) The AI Bundle includes 5 separate products: DeNoise AI (noise reduction), Gigapixel AI (image enlargement), Sharpen AI (sharpening tool), JPEG to RAW AI (just like you'd imagine, converts JPEGs to RAW files for more editing capabilities), and their brand new Adjust AI (create more vivid photos with details that pop) https://topazlabs.com/
This meeting will be a lot of fun. Hope to see you there!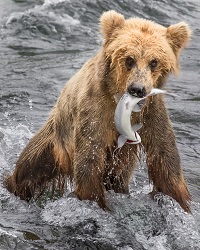 One Of Many
by Jim Howard
Winner, Honorable Mention
PSA Nature Division Round 3