Welcome
Welcome to Charlotte Camera Club! We are a growing, active club of photographers spanning all ages and skill levels. We offer a fun mix of opportunities and ways to participate.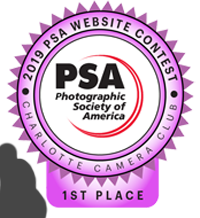 Our meetings are held on the second and fourth Thursdays of every month except the months of November and December (no second meeting those months). Meetings begin at 7:00 p.m. and conclude by 9:00 p.m. We meet at St. John's Episcopal Church at 1623 Carmel Road, in Room 205. Members and guests are invited to arrive a little early to socialize before the meeting begins.
Learn more about us:
Who We Are What We Do Our Meetings
We hope that you will browse our website and visit a meeting soon.
---
Next Meeting: Thursday, March 12

What: Practical Techniques for Field Close-Up Photography

This presentation will focus on techniques for close-up photography of the tiny wildlife and bits of nature that can be founn in your own back yard.
Subjects include the following:
 Tools worth carrying and their proper use.
 Using flash in close-up photography and different types of flashes.
 Flash settings for stationary and moving (flying) subjects
 Demonstration showing how to steady the camera and subject without a tripod. (Proper techniques for hand-held close-up photography.)
 Shooting insects in flight (Butterflies, Dragonflies and Bees.)
 The Sunny 16 Rule for Macro and Close-Up Photography

Speaker: Jim Carroll


Jim started his photography journey when at age 8 he received his first film camera for Christmas. Years later a high school teacher loaned him a 35mm SLR for a weekend and that weekend brought his interest in photography to a new level that continues to this day.


Today Jim and his wife Cindy experience the joys of photography together and have made many new friends along the way. They have been members of the Carolina Nature Photography Association for over ten years and plan their vacations around locations for landscape, wildlife and nature photography opportunities.


After attending one of Mike Motes Macro Boot Camp several years ago Jim spent more time in the field developing his skills shooting close-up subjects and learning new techniques including close-up and macro photography using a flash.


Jim's newest interest in photography is shooting Deep Sky Astrophotography subjects at his observatory in Lancaster, SC.

Header Images: 2018 CCC Image of the Year Award Winners (L-R): Lorraine Shannon(1st place),Joe Springer(2nd place), Linda Springer(3rd place)