Next Meeting: Thursday, January 24
What: Ron Wyatt - Practical Travel Photography
Description of Talk: If you are planning a luxury African safari or just a weekend escape, Ron Wyatt presents his tips for memorable travel photography. In an easy-to-understand, straightforward manner, Ron will teach you the fundamentals of shooting great vacation shots, as well as capturing the flavor of local cultures and capturing landscapes in their best light. Ron will discuss what you need to do in preparation for your trip and the practicalities of traveling with your photo gear. Selecting the right lenses is always a critical decision before traveling - Ron will offer simple and practical suggestions on which lenses are best for various shooting situations. He'll discuss "storytelling with your camera", offer tips for photographing people, and reveal his methods for great street photography. Ron's presentation is perfectly illustrated with his images from his recent travel to China, Laos, Vietnam, and Cambodia.
Speaker Bio:
Ron Wyatt's first experience with photography was an unsuccessful photo documentation of his honeymoon. Armed with a borrowed instamatic camera, he learned that camera shake will not produce great photos.
Ron, a self-taught photographer has covered the NBA, NFL, MLB, and two Summer Olympic Games. His photos have appeared in various publications such as: USA Today, Black Enterprise Magazine, Time Magazine, Newsweek, TV Guide, ESPN, and others.
He currently covers corporate assignments for; Six Flags, Eastman Kodak, Continental Airlines, CVS, PepsiCo, Verizon, and many others. His Photography has allowed him to travel to various parts of the world.
He worked has a cameraman for MSNBC, Comcast Sports, News12 and Court TV.
He has spoken on Sports, Corporate, Event and Travel photography at WPPI, Photo Plus, NECC, Camera stores and Camera clubs across the country.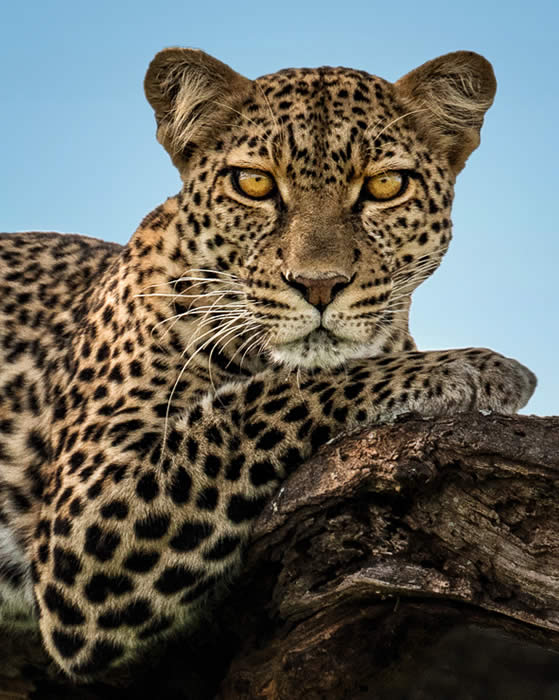 Resting Leopard
by Harvey Augenbraun
Winner, Award of Merit
PSA Nature Division Round 3