Next Meeting: Thursday, March 28, 2019
Guest Speaker: Thomas Wilson
Presentation: Drone/Aerial Photography - A very brief history of drones, drone photography (what drones have the best cameras for what needs), and finally, what you need to consider when you fly (legality, safety, and airspace knowledge). It will be a free flowing presentation, and Thomas will encourage questions/comments during any part. He wants it to be engaging and helpful. Thomas will also bring drones for members and guests to see, touch, etc.
Speaker Bio: Thomas Wilson grew up in Augusta, Georgia. Attended the University of Georgia and graduated with a degree in Broadcast News. Worked as a photojournalist (guy behind the camera) for 7 years in local TV in Georgia, Arkansas, and finally here in Charlotte at WCNC-TV. Thomas found a passion for flying drones back in 2014 (which is the beginning stages of the drone world). He enjoyed being in the air so much that he started Wilson Aerial Productions in 2015 and became FAA-Part 107 certified after two years of flying as an amateur. Thomas turned his hobby into a career; he started and ran the drone program at WCNC-TV. As lead pilot, he was responsible for training pilots, visual observers, and flying the drone for newsworthy events. In November 2017, Thomas left the tv world to join Spiracle Media, a national video production company based here in Charlotte. He is the Director of Drone Operations for Aerial Buzz, the drone side of the business under the Spiracle Media umbrella. Thomas has over 10 years experience in video production. He is married to wife, Jenna, and they just had their first child, Jace, who is almost 5 months old.
Next Outing: March 30, 2019
Subject: Street Photography
Eric Notheisen will lead a group through NODA to photograph Street Art in the area. More information to come.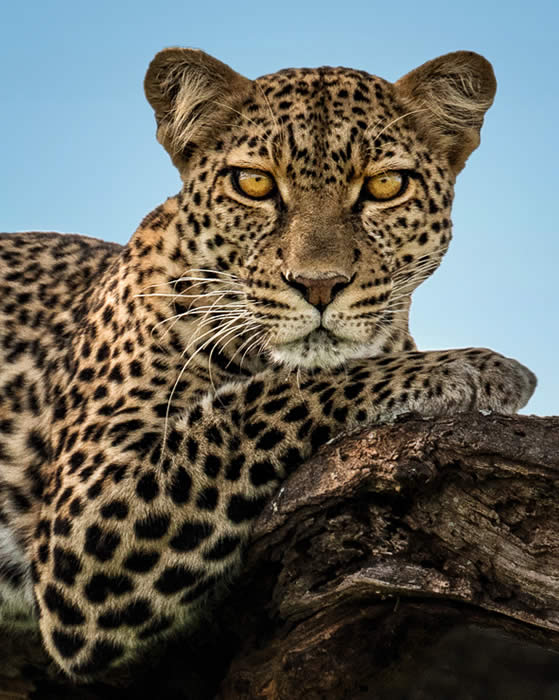 Resting Leopard
by Harvey Augenbraun
Winner, Award of Merit
PSA Nature Division Round 3